Family A411 (John Edward Adams)
This family is represented by Debbie Aldrich (John Edward Adams).
Generation 1 – Hugh Adams 
(b. Aug. 1833 in PA– d.22 Apr 1907)
Wife: Lucinda Cooper – married 17 Apr 1857, Belmont, Ohio – d. 1909
Children:
Arissa J. Adams (Jun 1857 -15 Apr 1863) – Died as infant. Born in Virginia. 

Died




April 15, 1863 

Aged 

5 Y'rs. 10 Mo's. 

& 2(2?) D's.

David F. Adams (1858 – 1949) – Born in Onio
John W Adams (1861-????) – Born in Virginia
Mary E. Adams (Jan 1864 – 8 Apr. 1865) – Died as infant. 

Died




April 8, 1865 

Aged 

1 Y'r. 3 Mo's. 

& 22 D's.

Jonah Ephriam Adams (1864 – 1939) – Born in Indiana
Nathaniel Adams (13 Aug 1869 – 22 Feb 1870) -Died as infant. 

Died 

Feb. 22, 1870




Aged 

(6?) M. 9 D.

Cora Bell Adams (22 Dec 1871 – 11 Feb 1873) – Died as infant – 

Died 

Feb. 11, 1873 

Aged 

1 Y. 1 M. 19 D.

Lenora Adams ( 27 Nov 1871 – 16 Jan 1872) – Died as infant – 

Died 

Jan. 16, 1872




Aged 

1 M. 20 Days.

Charles B. Adams (1874 – xxxx) – Born in Indiana
Location Timeline:
1833 – Birth – Pennsylvania per draft card and census
1857 – Belmont Ohio – Marriage to Lucinda Cooper
1860 – Tyler, Virginia – 1860- Census lists David F, Arrissa and Archimedes Cooper (15 year old Day Laboror) in household. Also listed right above Hugh us Jonah Cooper age 46 (is he Lucinda's father?) Hugh is listed as farm hand.
1863 – Tyler Co West Virginia – Civil War draft registration – Farmer
1870 – White River, Hamilton, Indiana near Noblesville – 1870 Census – David F, John W and Jonah but no Arrissa.  Hugh is a farmer. There is an Issac Cooper on the same page age 52 listed as born in Ohio.
1880 – Wayne, Hamilton, Indiana – 1800 Census (no Arissa listed) – Lists both Hugh's parents as from PA. He is a Farmer. Lucinda's parents are both listed as from OH. John W. born in Virginia. Jonah E and Charles B. are both listed as being born in Indiana.
1880 – 1887 – Moved to Norton/Thomas Kansas
1886 – moved to Kansas (based on grandchildren's birth dates in 1900 census)
1900 – Harrison, Norton, Kansas – 1900 Census
1907 and 1909 – Burred in Carey Cemetery, Noblesville, Hamilton County, Indiana – Died in Harrison, Norton, Kansas, USA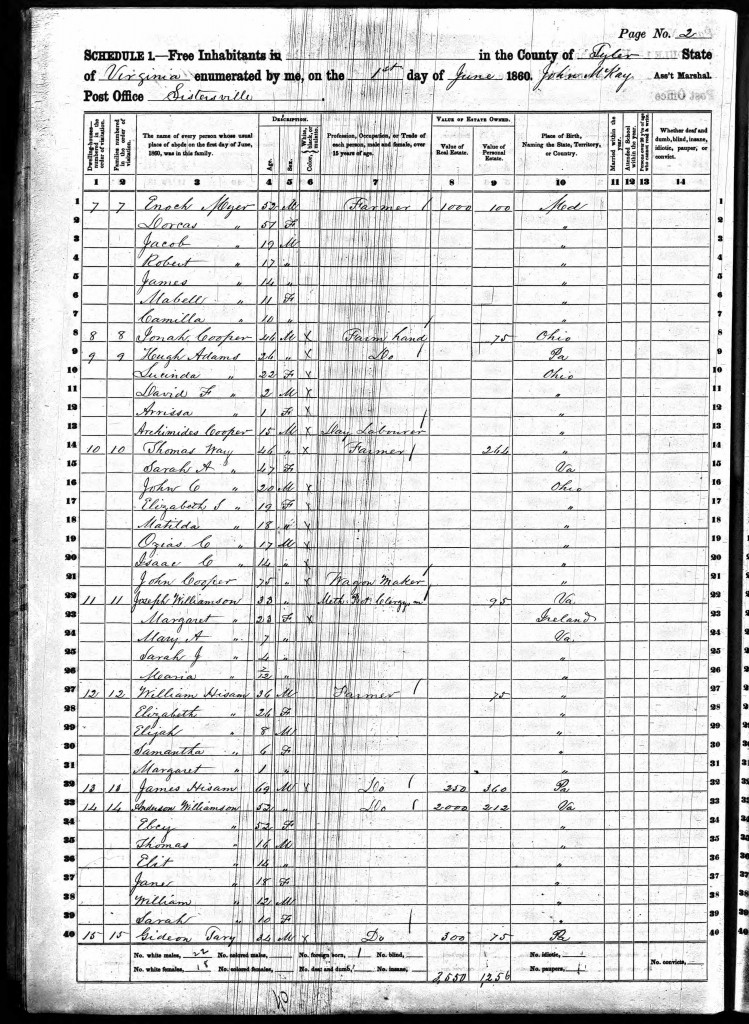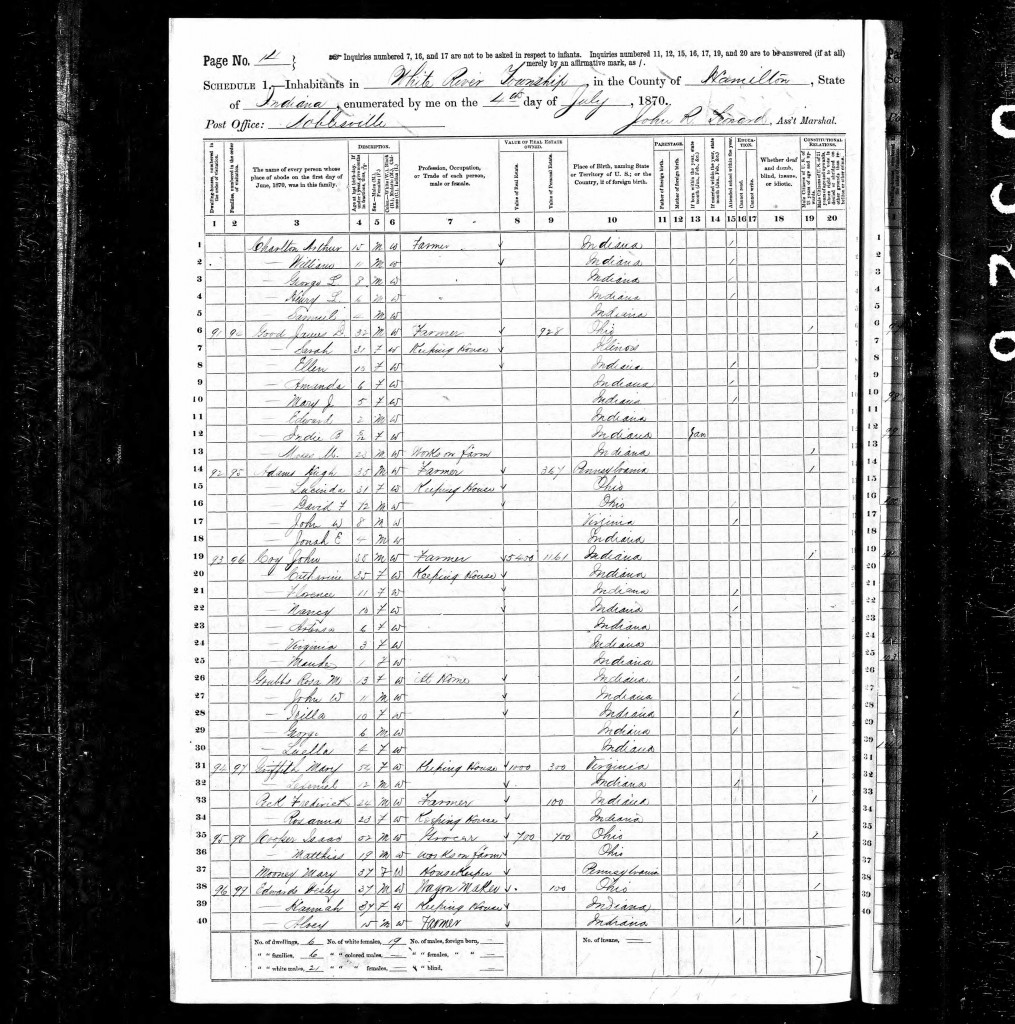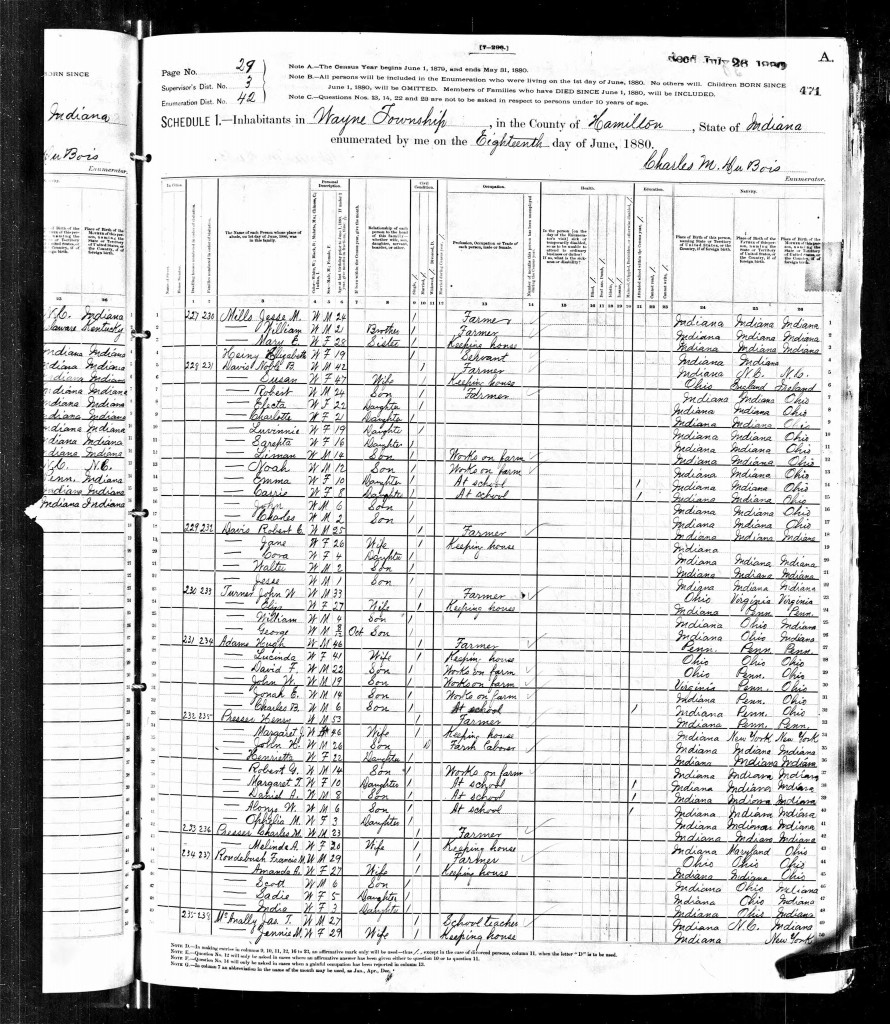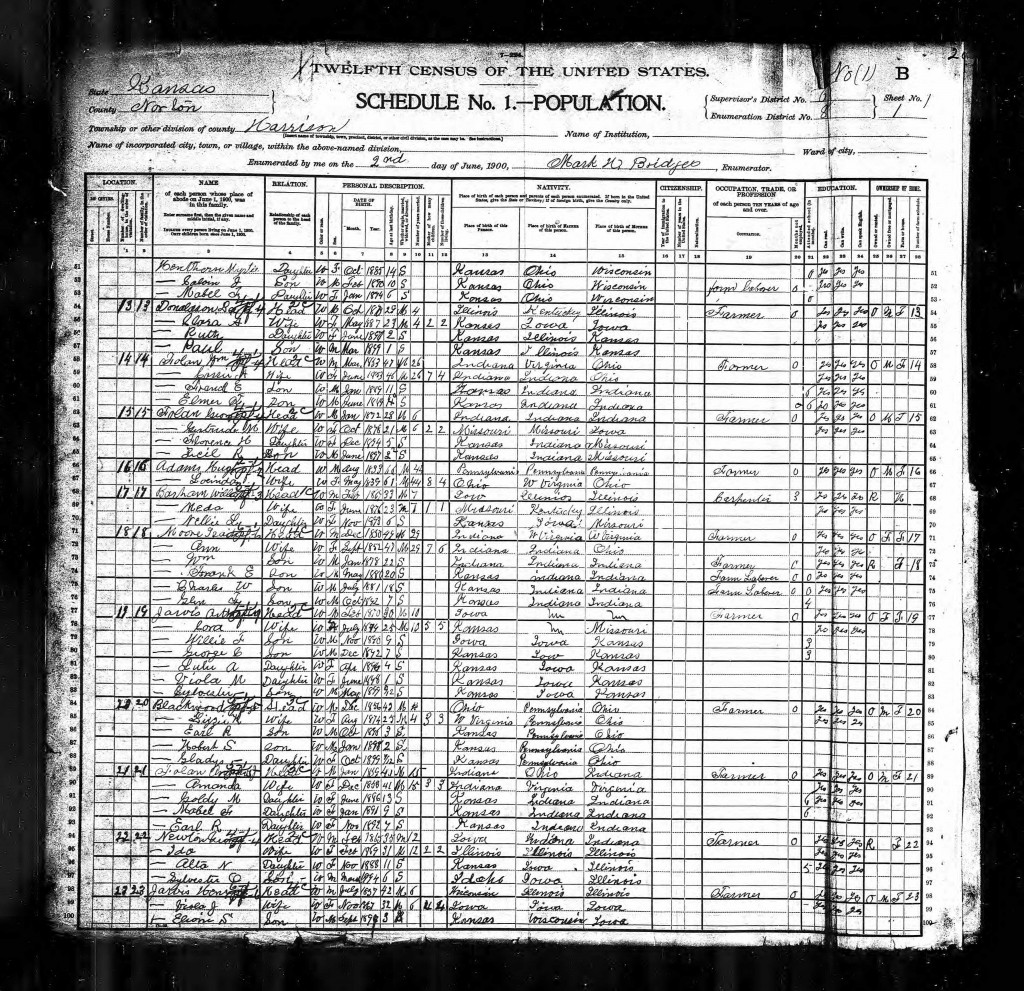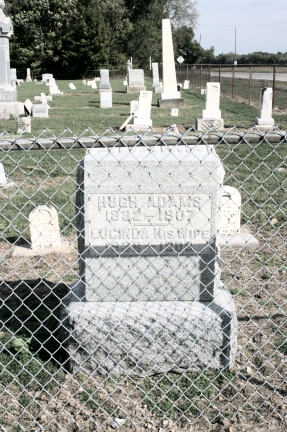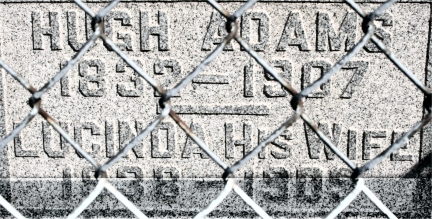 Generation 2 – Jonah Ephriam Adams 
(b. 1864 – d. 1939 Wichita, Sedgwick, Kansas)
Wife: Lavina Adeline Scott (b 1866 – )
married 17 Aug 1884 Belmont, Hamilton Ohio
Children:
Clinton Carlson Adams (1887 – 1960)

Charles William Adams (1888 – )

Hugh Tobias Adams(1891 – 1949)

Lueffa Adams (1893 – 1986)

Lavina Adams (1896 – )

Sylvia E Adams (1897-1973)

Elias Westin Adams (1899 – )

Blanche Adams (1903 – )
Lance Adams (1903 – )
Irene Adams (1907 – )
On the other side without the Dna Isaac J. Adams Born 1844 Hancock Co Ohio Married Sarah Ann or Sally Waters 1863 only child Joseph J. Adams1864-1901 wondering where the 2 lines meet also on our match page it shows at 4 genetic difference aArthur James Doyle That name shows up as a neighbor of my grandparents and are listed on an indian census of 1939 adopting what is supposed to be 1/2  siblings of my father I am not apparently smart enough to figure all this out and see why my sis opted out LOL. so not to take advantage but any help or info I can get is absolutely appreciated . I looked up the adams family tree that you pointed me to and got very lost in it all. I know there are a lot of adams' out there, you learn that early as a kid but to see in our early history just how many there were is even more mind boggling, one would think the pot would get thinner. Thanks David hope I've helped you some as well. Deb
Below is some related information I found on the internet – David
—–
http://archiver.rootsweb.ancestry.com/th/read/ADAMS/2006-05/1147534044
From: "Marilyn" <mansiononmain@earthlink.net>
Subject: Adams from PA to Ohio/WV/Ind/Kansas
Date: Sat, 13 May 2006 10:28:24 -0500
References: <2fc.501c390.3196c5d4@aol.com>
I am trying to locate Adams ancestors from Pennsylvania. My earliest known
person is Hugh Adams, born PA, 1832-4, who married Lucinda Cooper, daughter
of Jonah Cooper, and Matilda Williams, 4/17/1857 in Belmont County, Ohio.
They moved briefly to Tyler County, WV, just before the Civil War, (on 1860
census) probably left there between 1862 and 1866 (based on birthplace of
children) but definitely were in Hamilton County, Indiana by 1870, with a
family. Children at 1870 were David F., b 1858 Ohio, John W., b 1862 VA
(before it became WV), Jonah E., b. 1866 Ind (actual date is Feb. 1864). By
the 1880 census they had additional child, Charles B., born Ind. 1874.
There were also children who died: Arrissa J., b. Ohio 1855, d. 1863;
Mary E., b. 1864, d. 1865; Lenora, b & d. 1872; Cora Bell, b. 1871, d. 1873;
gravestones for all of those are in Carey Cemetery, White River Twp.,
Hamilton Co. Ind. Hugh and Lucinda went to Norton County, Kansas, with one
son, Jonah E. Adams, and his wife, Louvina Adeline Scott Adams, b. Ind.
12/10/1865, about 1886 based on grandchildren's births (were on 1900 census)
but were both returned for burial in Hamilton County, Indiana, in 1907 and
1909, respectively (Carey Cemetery).
I cannot find any parents or siblings for Hugh Adams, and don't know where
in PA he came from. There are several Hugh Adams during that period in PA,
but cannot determine which is correct. I think the Adamses came from PA
with the Cooper family into which Hugh married, since the Coopers are listed
in census records as born in PA (John Cooper, Lucinda's grandfather, b. PA
1785, married Nancy Mercer b. NC, both listed on 1870 census living
separately with family members.) The Coopers were in Belmont Co. Ohio by at
least 1834, and there is a rumor they were from Washington Co., Pa.
One possibility is Ephram Adams, b. Pa 1812 and Elizabeth, b. Pa. 1823, on
Belmont Co. Ohio 1850 census, although Elizabeth could not be Hugh's mother.
No children are shown with them. Hugh's son Jonah was named Jonah Ephraim.
There is also a Jonah Adams on the 1830 census for Allegheny Co. Pa.
Do any of these names ring any bells?
Thanks,
Marilyn
http://archiver.rootsweb.ancestry.com/th/read/ADAMS/2005-12/1136068884
Subject: Re: Hugh Adams b. PA 1834/5-Ohio,WV,Ind., Kansas
Date: Sat, 31 Dec 2005 16:47:06 -0600
References: <MB02TGJ2TUSzbAUfKRf00001836@mb02.myfamilysouth.com>
I am new to the list - I am looking for the parents of Hugh Adams, b. PA
1834/35, married Lucinda Cooper in Belmont County, Ohio in 1857, living in Tyler Co., Va. (now WV) in 1860, living in Hamilton County, Ind. 1880, moved to Norton/Thomas Cos., Kansas between 1880-1887, living in Norton Co. Kansas 1900, near son Jonah Adams and wife Louvina Scott Adams. Hugh and Lucinda were both buried in Carey Cemetery, Hamilton Co., Indiana, 1907 and 1909, where four of their children who died early were buried.
I have obtained some information on the Cooper line, and on Louvina
Scott Adams' Whelchel (her mother Sarah's) line (Shelby, Hamilton Cos.,
Ind.) I have no information on Louvina's father, Benjamin Scott, b. ca.
1835-40.Any information would be appreciated.
Thanks,
Marilyn
From: <judybe@sbcglobal.net>
Subject: Re: [ADAMS-L] Adams from PA to Ohio/WV/Ind/Kansas
Date: Sat, 13 May 2006 15:06:14 -0500
References: <2fc.501c390.3196c5d4@aol.com> <001701c676a1$e14d7580$fd62e304@pavilion>
Marilyn, You are trying to locate HUGH ADAMS, b. 1832 from PA. I don't if
we connect or not, but I am looking for any HUGH ADAMS (born abt 1775) most
likely in VA.
I am looking for the parents and siblings of JOHN ADAMS born 1802 VA (that
part of VA that became WVA between 1860 and 1870. I believe his father to
be HUGH ADAMS b 1775 and ELEANOR ELLETTwho had a son JOHN ADAMS born 1802.
We have all the same names, migration etc. HUGH and ELEANOR were in KY in
the 1820 Pulaski Co. census living two or three doors from the BELLS. My
JOHN ADAMS b 1802 married NANCY BELL (b 1802 in KY) in Monroe Co. IN in
1826.
JOHN & NANCY'S children were:
JAMES H. ADAMS b abt 1828
HUGH CALVIN ADAMS babt 1829 d. April 27, 1865, Dalton GA in the Civil War.
WILLIAM RILEY ADAMS b 1831, Bean Blossom Twp.Monroe Co. IN d. January 08,
1898
JOHN M./QUENCY ADAMS b April 03, 1835, d May 22, 1893
FRANCIS MARION ADAMS b 1837 married MELVINA SIMS, 1854
ANCIL MONROE ADAMS b June 07, 1838, d. February 10, 1900
SARAH JANE ADAMS (ANCIL'S twin sister)
HUGH ADAMS b abt 1775 (VA?)and ELEANOR ELLETT'S children:
ANCEL ADAMS
JAMES ADAMS, married MELINDA JENKINS
REBECCA ADAMS b Oct. 10, 1800
JOHN ADAMS b February 24, 1802 There was a John Adams, right age in Pulaski
Co. IN that married a JANE HORTON/HOOTEN in 1843. I believe this wife was
attached to JOHN in error.
MARIAH ADAMS b May 3, 1809
WILLIAM ADAMS b February 21, 1811, m CATHERINE SPENCER.
RACHEL ADAMS b in KY Nov. 29, 1812 d, Oct, 28 1885, m WILLIAM SALES
HUGH ADAMS b February 27, 1815
I have quite a bit of info on these familes and on down from their birth
dates. I just haven't been to prove that HUGH'S son JOHN b 1802 is my JOHN.
I do have contacts with several of HUGH'S descendants with extensive family
histories.
I also have photos of my JOHN'S ( b 1802) son ANCIL and HUGH'S (b 1775)
grandson ANCEL and they look like twins.
I don't know if any of this might help you or not, but if you see any
connection, let me know.
Judy judybe@sbcglobal.net
—– Original Message —–
From: "Marilyn" <mansiononmain@earthlink.net>
To: <ADAMS-L@rootsweb.com>
Sent: Saturday, May 13, 2006 10:28 AM
Subject: [ADAMS-L] Adams from PA to Ohio/WV/Ind/Kansas
> I am trying to locate Adams ancestors from Pennsylvania. My earliest
known
> person is Hugh Adams, born PA, 1832-4, who married Lucinda Cooper,
daughter
> of Jonah Cooper, and Matilda Williams, 4/17/1857 in Belmont County, Ohio.
> They moved briefly to Tyler County, WV, just before the Civil War, (on
1860
> census) probably left there between 1862 and 1866 (based on birthplace of
> children) but definitely were in Hamilton County, Indiana by 1870, with a
> family. Children at 1870 were David F., b 1858 Ohio, John W., b 1862 VA
> (before it became WV), Jonah E., b. 1866 Ind (actual date is Feb. 1864).
By
> the 1880 census they had additional child, Charles B., born Ind. 1874.
> There were also children who died: Arrissa J., b. Ohio 1855, d. 1863;
> Mary E., b. 1864, d. 1865; Lenora, b & d. 1872; Cora Bell, b. 1871, d.
1873;
> gravestones for all of those are in Carey Cemetery, White River Twp.,
> Hamilton Co. Ind. Hugh and Lucinda went to Norton County, Kansas, with
one
> son, Jonah E. Adams, and his wife, Louvina Adeline Scott Adams, b. Ind.
> 12/10/1865, about 1886 based on grandchildren's births (were on 1900
census)
> but were both returned for burial in Hamilton County, Indiana, in 1907 and
> 1909, respectively (Carey Cemetery).
>
> I cannot find any parents or siblings for Hugh Adams, and don't know where
> in PA he came from. There are several Hugh Adams during that period in
PA,
> but cannot determine which is correct. I think the Adamses came from PA
> with the Cooper family into which Hugh married, since the Coopers are
listed
> in census records as born in PA (John Cooper, Lucinda's grandfather, b. PA
> 1785, married Nancy Mercer b. NC, both listed on 1870 census living
> separately with family members.) The Coopers were in Belmont Co. Ohio by
at
> least 1834, and there is a rumor they were from Washington Co., Pa.
>
> One possibility is Ephram Adams, b. Pa 1812 and Elizabeth, b. Pa. 1823, on
> Belmont Co. Ohio 1850 census, although Elizabeth could not be Hugh's
mother.
> No children are shown with them. Hugh's son Jonah was named Jonah
Ephraim.
>
> There is also a Jonah Adams on the 1830 census for Allegheny Co. Pa.
>
> Do any of these names ring any bells?
>
> Thanks,
> Marilyn
>
>
> ==== ADAMS Mailing List ====
> To UNSUBSCRIBE in MAIL mode use: Adams-l-request@rootsweb.com
> To UNSUBSCRIBE in DIGEST mode use: Adams-D-request@rootsweb.com
> List-Manager's Address: Adams-admin@rootsweb.com
> Archives: http://resources.rootsweb.com/surnames/a/d/ADAMS
> For Virus help: http://www.wvi.com/~wb/virushelp.html
>
> ==============================
> Search the US Census Collection. Over 140 million records added in the
> last 12 months. Largest online collection in the world. Learn more:
http://www.ancestry.com/s13965/rd.ashx
>
>