This family is represented by Tim Adams, Sue Pace, Karen Crawford and Tom Adams (family files published at Family Tree DNA (FTDNA), SMGF and familysearch.org websites. Their oldest known paternal ancestor is James Adams and his (first son) William Hamilton Adams. James lived most of his life in Stark County, OH but it is unknown whether his parents originated from there, PA, or elsewhere. His first son William Hamilton Adams (from his first marriage) eventually migrated to MI. Other sons migrated to TX and one daughter to FL. James Adams remarried after his first wife died. The link to the family file below is in reference to James' second marriage and was created by John Walden, Adams Surname Y-DNA Project Administrator. It was based on an anonymous DNA donor with results posted on the Sorenson Molecular Genealogy Foundation (SMGF) Website located at: http://smgf.org/. James second wife and children eventually migrated to Michigan. Tim Adams, Sue Pace and Karen Crawford are descendants of James Adams (first marriage) to Mary Ann Copp. Tom Adams is a descendant of James Adams (second marriage) to Mary Shook.
Data taken from Karen Crawford / Tim Adams / Sue Pace / Tom Adams genealogy family files and from 'Adams Families in the Y-DNA Project' by John Walden (below). Note: File contains several families in project unrelated to the James Adams Family.
http://wc.rootsweb.com/cgi-bin/igm.cgi?op=GET&db=y-dna-adams&id=I2
Generation 1 – James Adams (b.1818 OH or PA – d. 1889 OH)
Stark County, OH
Marriage #1 – Mary Ann Copp (b. 1820 PA – d. 1875 OH)
1 William Hamilton Adams (1843 OH – 1901 MI) Married: 1. Lucinda Peart 2. Delia Murphy
2 Jerome Quyberon Adams (1846 OH – 1939 TX) Married: Sarah Cristina ?
3 Alpheus Walter Adams (1849 OH – 1923 OH) Married: Elizabeth Ann Sweitzer
4 Lourna K. Adams (1851 OH – ? ?)
5 John Quincy Adams (1856 OH – 1921 TX) Married: Fannie L. Manly
6 Amfield Esther Adams (1859 OH – 1933 FL) Married: Elmer Ellsworth Cline
Marriage #2 – Mary Shook / Landes (b. 1853 OH or PA – d. MI)
1 Florence May Adams (1876 OH – ?) Married: Alvah Warren
2 Frank Adams (1878 OH -1878 OH)
3 Charles Foster Adams (1879 OH – 1964 MI) Married: Leotta Cornwell
4 Elmer/Eleanor? Garfield Adams (1881 OH – 1886 OH)
5 Lillian Viola Adams (1884 – 1951) Married: George Rollison
6 Harry Joseph Adams (1886 OH – 1954) Married: Clementine Jeanette Reynolds
7 Carrie Myrtle Adams (1888 OH – ?) Married: George M. Crawford, Forrester H. Groves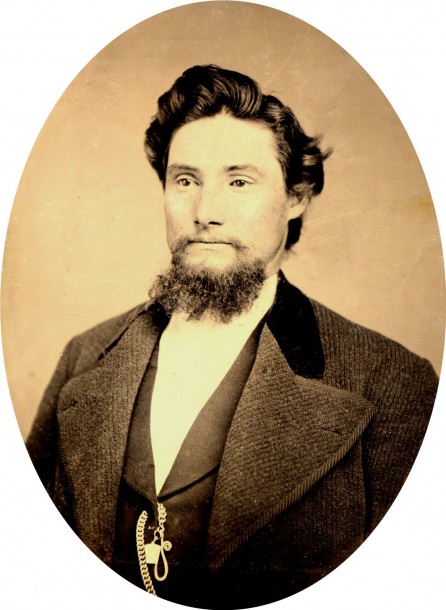 Generation 2 – William Hamilton Adams (b. 1843 OH – d. 1901 MI)
Stark County, OH
Marriage #1 – Lucinda P. Peart (b. abt. 1847 ? – d. ? ?)
1 Harland Adams (abt. 1869 OH – ? ?) * Harland probably a child of former marriage
Marriage #2 – Delia C. Murphy (b. 1859 OH – d. 1942 MI)
1 Alda Bernice Adams (1877 OH – 1931 MI) Married: Oscar D. McKenzie
2 Edna Ann Adams (1879 OH – 1955 MI) Married: 1. Mart Schumacher 2. George Hall
3 Royal Leroy Adams (1881 OH – 1917 OH) Married: Jennie Oosterbaan
4 Howard Lamont Adams (1885 MI – 1906 MI)
5 Dora Jane Adams (1888 MI – 1978 MI) Married: Daniel C. Thomas
6 Georgia Bell Adams (1890 MI – 1985 FL) Married: Arthur Bennett
7 Ned Adams (1897 MI – 1898 MI)
8 Ted Adams (1897 MI – 1898 MI)
9 William Henry Adams (1901 MI – 1963 IL) Married: Mary G. Smith
—————————————————————————-
Additional Notes
Email from Tim Adams to Tom Adams, Sue, Karen and David Scifres on 9 May 2012
Hi Tom,
I think you are right about the land records and they may be our only clue regarding where he came from. I did not know they were available on-line so will try to check it out.
This is mere speculation but something to consider. Most of the land in the early 1800s in that era was acquired either by land grants or was homesteaded. If a person served in the Revolutionary war they may have been given a free land grant…or a person could have purchased land at 'very' reasonable rates. After the war our country was almost broke so the only way to raise revenue was to sell land…and this fact brought many settlers to the area.
Much of the research that has been done by our genetically related cousins indicates that our common ancestor probably came to the east coast from Ireland and then migrated west into Eastern PA. (I'm copying in David Scifres who is one of our genetically related cousins who has done research on PA) for his advice.) We think most of our descendants came from that area before moving west into Ohio, KY and westward into other states. That seems logical to me so I think that James' parents were from PA. It is very possible that they came from Indiana County, PA. and that could be why 'Indiana' is mentioned in one of the census and it's easy to assume that meant the State of Indiana rather than a county in PA. I still often wonder how James bought land…did he inherit it from his father? If so, the land deeds should indicate that and we need to find out whom he bought his land from…or if there was any record of a 'will'. It is interesting that there is no family record of James' parents…you would think that his children from both your side and my side would have known their grandparent's names? It has also puzzled me that James has no birth record…otherwise we might know who his parents were.
There was a Rev. James Adams in the early history of Stark and Portage Counties but have never been able to find anything about him…are you aware of him?
There is an 1830 and 1840 Census record for a James Adams in Plain Twp. Stark / Franklin County. I think part of Stark County was taken from Franklin County. I think this James is our James' father and it is not a stretch to believe our James was named after his father. Both Census records indicate that this James had other male and female children. And one of the males is the right age for James.
Last night I went to the Indiana County, PA genweb site and found a Gawin Adams, James Adams, Alexander Adams, Ezekiel Adams, and Robert Adams living in Indiana County in the 1810 Census. Gawin and Robert were the oldest males but all in all they were all very young families.
Ezekiel Adams was found in Blacklick Twp.
Gawin Adams and Alexander Adams were found in Center Township.
James Adams and Robert Adams were found in Wheatfield Township.
There were 3 males and 2 females listed under James Adams. He and his wife were from 16-25 years old and all the children were from 0-10 years old.
There were 3 males and 1 female listed under Robert Adams. 1 male (presumably Robert) was 45+ years old. Two males were from 10-16 years old and the female was from 16-25 years old.
The Center Twp. Tax list in 1807 shows:
Garwin Adams – farmer
Robert Adams – farmer
James Adams – laborer
I think we should try to find these people in the 1790 and 1800 Census if possible. The James Adams in Indiana County, PA could have migrated to Ohio and could be the family we are looking for…how we verify that I haven't a clue.
Tom, you mentioned James' sons (from Mary Ann Copp marriage)…one being my grandfather William H. who relocated from Ohio to Michigan. James daughter Amfield E. who married and went to Florida, Alpheus Walter (Richard) who stayed in Stark County, OH, and John Q. and Jerome Q. who left home to settle in Texas. I have never heard they went to Kansas to raise sheep…which they may have? Is that a family story?
Do you a link to the newspapers articles you were reading?
I tried to attach a copy of the Stark County Ohio Atlas but the file size is too large to send. I can give you a linl to where I found it on the Internet if you want it.  It shows Marlboro Township (as well as all the others in Stark County) and you can zoom in on section 4 and 15. At the time the Atlas was made (late 1800s) it does not show Adams as the owner of lots in either section…however an earlier plat map does. It was made after James death so I assume Mary A. Shook-Adams sold the property where they lived?
I already sent you the 1840 census…attached is the 1830 Census FYI.
Anyway, I hope this helps…let me know your thoughts?
Best,
Tim
————————————–
Email from Tim to David on 1/26/2013
Hi David,
Last night I was looking around in the BLM website and may have found a good lead. When you have time go to the website and simply type in the surname Adams and the State of Ohio…with no other entries. It will bring up many entries of Adams' that obtained land either by grant/patent, or purchase in OH. Go through the entries (several pages) until you come to a 'James Adams' who was located in 'Wayne' County, OH…which is very close to Stark County. The Accession Nr: CV-0020-172 and then click on the actual document. It states "James Adams of Fayette County Pennsylvania, etc., etc. The date is January 14, 1814. The person is not my James because he wasn't born until 1818…but it could very well be his father. The fact that he came from Fayette County PA is also interesting because 'we' (Adams DNA Family) believe our Adams' families migrated through the area. All this time I have chiefly been looking for James' parents in Stark County when it may be Wayne we should be looking. We should all be searching for our ancestors in adjacent counties as well.
I haven't finished looking through all the pages yet so maybe I'll find other leads. In any event a census search for both Wayne County OH and previously Fayette County PA is certainly indicated. I will have to renew my subscription to Ancestry in order to do more research.
Also, I assume you have already done so…but you may want to do a search similar to mine. Simply enter the surname 'Adams' and the State of PA only and hit the search key. Obviously, it will create a long list (several pages) of Adams' entries. Page through them noting names and counties…and maybe you will come-up with some new information…let me know what you find. I will do the same focusing on Fayette Co. which is SW of Uniontown but relatively close to Washington, Greene, West Moreland and Somerset counties and the Cumberland.
Here is link to the BLM website in case you don't have it: http://www.glorecords.blm.gov/
Let me know you thoughts and good hunting.
Tim
P.S. Becky, Suzanne, Tom, Gerry, John and Steve…you may want to do your own search focusing on your own ancestors. You can certainly input both the given name and surname…but you may learn more by just in-putting Adams and the State…you will come up with many pages but then you may find a name you had not considered (by where the person was from in the actual patent). If you find something, you can copy the document to your computer or simply print it. Let me know if you find anything interesting. The BLM website is flakey and is down often…so be patient…apparently it must be used by a lot of people.